Eddie From Ohio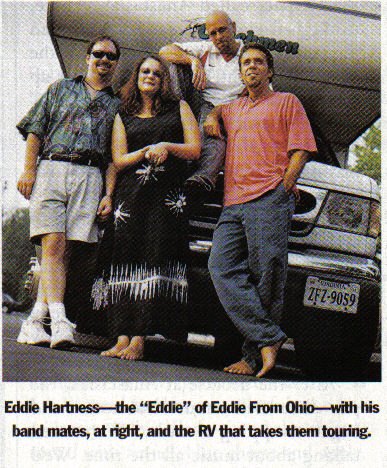 Eddie From Ohio;
The folk-rockers of EFO have always insisted on being independent. Has that brought them--or cost them--success?

By Tim Wendel
The Washington Post Magazine, Nov. 3, 2002

Julie Murphy Wells sits on the wooden steps leading up to the outdoor stage. The sun has begun to set beyond the far edge of Brown's Island in Richmond, and those several thousand attending tonight's free concert make their way across the pedestrian bridge separating the park from downtown. Careful not to smudge her fresh makeup, she lowers her head onto her crossed arms. Her reddish-brown hair fans back across her shoulders. If Murphy Wells had the time, she would catch another catnap. Corey, her 6-month-old, kept her up much of last night. The hours before the band's recreational vehicle left Arlington were spent playing with him and his 2-year-old brother, Liam. Then it was her turn to drive.

Parenthood is always complicated. But what if you were a parent and the lead singer for Eddie From Ohio, a local folk-rock quartet trying to make a big name for itself but without a major label? That's where Murphy Wells, at the age of 36, finds herself. She has a life that her friends envy. She has two adorable children and crowds cheering her name several times a week. But sitting on the stage steps tonight, Murphy Wells just seems worn out. She wonders if she's "crazy trying to do all of this at once."

The drive down Interstate 95 from Arlington took two hours. That's how long she'll have to sleep tonight on the way home. Any show less than eight hours away and this band routinely returns to Northern Virginia so the members can spend the night in their own beds. Hotel rooms are expensive. Besides, it breaks Murphy Wells's heart to be away from her sons too many nights in a row. At a recent show, the heartache was so strong she stepped down from the stage and asked to hold a concertgoer's baby. "I miss my kids so much," she explained as the rest of the band looked on.

Kerry James, a local deejay from WKLR, will introduce the band tonight, and he actually knows EFO's music. "Not that I can play them on our station," James explains. "We're classic rock. They're not our format."

James files past Murphy Wells, followed by guitarist Robbie Schaefer, bassist Michael Clem and percussionist Eddie Hartness.

"Here we go, Julie," Clem says.

On this night, as with most of the 150 or so gigs Eddie From Ohio will play a year, the fatigue and concerns somehow fall away come showtime. If that adrenaline rush ever disappears, she vows she'll quit.

Between the lip of the stage and the soundboard tent, an enthusiastic crowd has gathered to hear EFO. The band breaks into "Quick," the title song from its current CD. Many in the front rows sing along, but beyond them, it's more like a block party than a concert. To move the majority of tonight's crowd, to draw them closer to the stage, is tonight's goal.

Clem and Schaefer, the two guitarists, stand on either end of the stage, framing Murphy Wells. With her good looks, bright smile and a voice that can growl or purr, she's the most commercial component of this package. The one who can win over an indifferent crowd.

"Everybody's always had a thing for Julie," says longtime fan Curtis Ross of Richmond. "She may have gotten married, had kids. But she's a lot of what you take away from their shows. She's great, they're all great, and it makes you wonder why Eddie From Ohio isn't a household name yet."

EFO traces its beginnings back to Lewinsville Elementary School in McLean. That's when Schaefer taught Clem how to play "Michael Row the Boat Ashore." At Lewinsville, the two formed a band, decked themselves out in groovy red vests, with Schaefer as "the leader and the captain."

After college, Schaefer recorded a self-titled CD in Nashville and played various clubs and bars in the D.C. area. One night he was at the old Joe Theismann's restaurant in Baileys Crossroads. Clem and Murphy Wells were the only ones in the place except for the bartender. When Schaefer urged them to help him with the chorus to "Amy" by Pure Prairie League, they happily chimed in. The next day Schaefer called Murphy Wells at her parents' house and asked if she'd be interested in getting together with him and Clem to play some music. Murphy Wells hung up the phone and started screaming, "Robbie Schaefer asked me to join his band!"

They have now been together for more than a decade and seven CDs. After the release of the first CD in 1992, "A Juggler on His Blades," producer Billy Wolf met with the band at a Chili's restaurant near his home in Falls Church. He brought a legal pad with him and carefully laid out the choices. The band was at a crossroads. A line was drawn down the middle of the legal pad, and the producer listed fame, fortune and MTV on one side--career, control and family life on the other. Choose one direction or the other, he told the band members, and we'll make the next album accordingly. But, God forbid, don't try to be both. In the weeks after, they went over and over Wolf's points, but initially the choice seemed easy enough. They wanted to be rock stars.

"The pull was strong," Schaefer recalls. "After all, music for me since I was a kid wasn't playing folk clubs. It was Kiss."

Still, Wolf's warning about the music business, how most groups become lost in that labyrinth, eventually took hold. To foster a career, your typical neophyte band hangs on for the day when a label becomes interested. A major recording company will provide the money to make the album, gear up its public relations machine, assure that the next single gets radio airplay. But that's the Catch-22 of it all, Wolf said. You start out in the hole and give away leverage to the recording executives. They can send you out on the road for months at a time. They can tell you what kind of sound you must have. If you're not careful, you become their indentured servant.

If a band's bold enough, Wolf told them, it can produce its own albums, on its own dime. Instead of paying thousands of dollars a day to record at a major studio in New York or Los Angeles, it can do a CD closer to home. It costs about $ 2 to $ 3 apiece to manufacture a CD. Sell them for $ 15 at your shows and once you clear $ 2,500 or so, the rest is gravy.

In the month after their chat at Chili's, the three guys in EFO--Schaefer, Clem and Hartness--decided on the independent path. With Wolf's help, they could produce their own albums. They would line up the gigs. By dividing the labor, they would retain control. The lone holdout was Murphy Wells.

"They know this wouldn't be the same band without her," Wolf says. "Julie brings a combination of strength and vulnerability to her performance. That quality in a singer where you feel they've opened up, yet are in control at the same time."

On the road, in the quiet hours after shows, Murphy Wells lobbied her band mates to go the rock star route. Early in the life of EFO, when the hotel chain she worked for offered her a job promotion to Cincinnati, she turned it down because the band was that important to her.

"I'll drop everything to do this," she told them.

"But don't you see," Schaefer finally replied. "Of the four of us, you're the one who's the most protective of your personal life."

The rest of the band pointed out to her that she was the one who refused to tour anywhere, anytime. She was the one who complained about missing friends' weddings, nieces' christenings. She was the one who wasn't ready to give away her soul to a record company.

And so EFO remained an independent band. By following Plan B, EFO retained artistic control. But for starters, that means the members still haul their own stuff. The band doesn't have any roadies and can't afford them.

"Being independent can be great and frustrating," Hartness says. "I'd love to be on MTV, on the radio. I don't want to be 50, 60 years old and still schlepping my stuff. But there's nothing like running your own business. You call all the shots. We're not being faxed a schedule. We're not being forced to change our music."

The nuts and bolts for most rock tours are discussed in a board room, or perhaps in a high-priced recording studio. But on this day in March EFO is meeting in the sunroom of Murphy Wells's center-hall Colonial home in Arlington.

As the band gathers, Murphy Wells nurses Corey, her baby. Downstairs in the basement, Liam, her toddler, is with the nanny. Schaefer, Clem and Murphy Wells all have children--a total of six sons. The plan was for her children to be down for their afternoon naps by now. But, once again, things haven't gone according to plan.

"This one will be out soon," she says, nodding at Corey. "But what I need is for him to sleep at night. What I wouldn't give for both of them to go down at the same time."

The band has been off for nearly five months. Murphy Wells gave birth a few weeks before Christmas. The birth came less than a year after the band released "Quick." In a perfect world, EFO would have stayed on the road, pushing the new product. A few days ago, Murphy Wells visited a Tower Records to check on the availability of "Quick." It didn't have any copies. Except for singing the national anthem before a basketball game at Marshall High School in Falls Church, the band has been out of sight during the maternity leave. That means thousands of CDs haven't moved out of the warehouse.

"We have to pretend it's a new tour," Hartness says. "It's almost like we're starting over."

With Corey fed and now asleep, Murphy Wells takes him upstairs to bed. When she returns, Schaefer passes around a contract between the band and Jared Paul, director of entertainment for Abe Pollin's Musicentre Productions. Paul first heard the band while he was a student at the University of Maryland. He was the kid in the tie-dyed T-shirt who volunteered to sell merchandise or run the lights. He will be the first formal business manager the group has ever had.

"It's a big step," says Murphy Wells, "but we've grown to where we need him." With parenting a bigger part of the picture, the band cannot go on the road four or five times a week as it did in the early years. Until recently, the band routinely did 15 or more gigs to make $ 25,000 a month. Overall, it was grossing more than $ 500,000 a year, including CDs and merchandise. Now it will do half the number of shows a month and bring home about the same amount, making up the difference by playing bigger venues. But playing bigger halls means the pressure to fill those venues has also increased.

"We need to sell out almost every place we play," Murphy Wells says. "We cannot go, 'Oops,' and return to small clubs somewhere if the big places don't work out."

"Jared knows that," Schaefer says. "He knows we'll have a bigger hand in things than most bands."

As everyone signs off on the deal, the phone rings. "I'm in a band meeting," Murphy Wells tells a girlfriend.

After two hours of business, EFO has enough time to run through a few songs. Clem and Schaefer break out their guitars and the band members sit together on the floor and look over new music.

Both of her sons have finally gone to sleep. "Just keep it down," Murphy Wells tells the guys.

"Eddie From Ohio" is an odd nickname a girlfriend gave Eddie Hartness, who is not from Ohio but from Arlington. In fact, all the band members were raised and still live in Northern Virginia. But like their homey, homely name, their life in the music business is far from glamorous.

Each band member has responsibilities usually handled by roadies, management and band employees. Murphy Wells sets up the souvenir table at every stop ("I'm the only one who can fold these T-shirts right," she says) and balances the band's books at home. Hartness does maintenance on the aging RV. Clem does publicity and records the details of every gig--what they played, how the crowd was, who introduced them. This helps the band tailor its shows to each locale. Schaefer works with a national booking agent to line up the band's next shows.

"The way I see it, I work for four vice presidents," says Bob McNichols, the band's road manager. "No one feels that they are doing more or less than all the rest. Each of them has their business role. Over time they've had to add people like me to help them, but the decisions and much of the grunt work is still done by them."

Garry West, co-founder of Compass Records, met the band several years ago. Despite EFO's reputation for going it alone, West tried to sign them. He knew it was a long shot. Still, negotiations went ahead for a while before ending amicably. Today, West cannot help wondering if EFO will be the best band nobody has ever heard of.

Commercially, he says, EFO "is in no man's land. It's a big leap from selling 25,000 CDs, like they do, to 125,000 or more."

"They're four intelligent people who are driven to succeed. But can they do it all on their own? Without any help from a record company? Honestly, I don't know."

Clem, for one, worries that family obligations could one day break up the band. "The potential's there every time something changes on the domestic front," he says.

Schaefer shares his longtime friend's concerns. After a lackluster first set at a recent gig, he wondered if the band was playing enough "to be as sharp as we need to be."

Murphy Wells can be as particular as anyone about the band's sound. During one weekend, when EFO played Richmond, Charlottesville and Lexington, Va., in consecutive nights, she frequently brought out the portable Casio keyboard to run through "O Canada!" The band was scheduled to sing the Canadian national anthem when the Toronto Blue Jays came to Camden Yards.

"Eddie, you don't have that section down yet, hon," Murphy Wells said.

Dutifully, Hartness, who sings tenor in the band's elaborate four-part harmonies, tried again.

"Nope, not yet," Murphy Wells said. "Again."

She had Hartness run through the section a dozen more times before Clem advised her to drop it.

After more than a decade together, Murphy Wells says, the band members "can be devastatingly honest with each other. We had our petty period. The jokes behind each other's back. But we've outgrown that. It's from being on the road, doing it from the ground up. I know these guys as well as their wives."

After a gig, before they get back on the road, the guys love to watch Murphy Wells count the money. Often a bottle of wine is opened and the credit card receipts and a farmer's bankroll of small bills are piled in the middle of the table inside the RV. Nobody says a word as Murphy Wells riffles through currency and then adds and rechecks the figures on a calculator. She could be a blackjack dealer the way she flips through those bills.

"We did almost $ 1,100 in CDs," she says this night. "Add in the T-shirts, we maxed out on bumper stickers. We almost cleared $ 1,500 tonight."

"All right, a good evening's work," Clem says.

"Julie, you're amazing," Schaefer says. "I'd watch you count money anytime."

The RV and trailer are loaded and the band heads home, with Hartness behind the wheel. Clem has brought "The Last Waltz," a film about the Band, to play on the vehicle's DVD player.

"It's really sweet," he says to Murphy Wells. "Performances by Van Morrison, Neil Young, Dylan. You'd love it."

"You know my answer," she says, heading for the double berth at the rear of the RV. "I need to get some sleep before I get home."

At 3:30 in the morning, the RV pulls up in front of Hartness's home, and the band members go their separate ways in the predawn darkness. When Murphy Wells gets home, she checks on her sons and grabs a few more hours of sleep before her husband, Greg, leaves for his contractor's job. Come Monday morning, the kids are hers. Besides the kids, there are always off-day duties before the band goes on the road again. By midday, Murphy Wells is at her desk near the sunroom. She processes credit card receipts from the recent shows. She is also in charge of cutting the paychecks for everyone with the band and maintaining the inventory of T-shirts, bumper stickers and CDs. Before a recent swing through Texas, she somehow fit 220 CDs and six dozen EFO T-shirts into her suitcase to be sold at those shows.

"There's a lot of juggling," Greg Wells says. "But [Julie and I] have never known anything different. We haven't had a normal relationship."

If his wife came to him tomorrow and announced that she was quitting the band, Greg says, "it wouldn't hurt my feelings that much."

But in the next breath, he adds, "It's rare when a person can get to do what they truly love. I don't know too many people who are in a profession because they just really, really love it. They've been going at it for a long time, and who knows, maybe one day it's going to click."

During a recent day at home, Murphy Wells joined a girlfriend with their baby strollers at the park. Her friend talked at length about how great it must be to be "a music star." Murphy Wells bit her tongue until it was too much. As calmly as she could, she detailed the sacrifices made to keep the band on the road.

"Sometimes you wish that you could come home and just be a mom," she says. In the mid-'90s, a band called Naked Blue played many of the same small clubs in the D.C.-Baltimore area as EFO. The band broke through and signed with a label. But when the label went under, Jennifer Smith decided her band would go it as an independent, too. Tonight in Richmond, Smith's Naked Blue has opened for EFO. Her set over, Smith is signing CDs at the souvenir table she shares with EFO. Twenty-five or so CDs are sold.

"You sure sound blue, honey," one drunken patron jokingly tells the willowy blonde. "But where's the naked?"

Up on the stage, EFO moves into its second set. It doesn't matter to Murphy Wells and the guys that somebody back by the beer trucks repeatedly calls out for the ubiquitous "Free Bird."

"So many of us look up to [EFO]," Smith says. "It's not just their great music, what they do onstage. It's that they're doing it on their own.

Tonight on Brown's Island in Richmond, the band has to be off the stage by 9:30--that's the park's curfew--so it races to cram in as many hits as possible. Last summer when EFO played Richmond, it rained, and maybe 300 people attended. Tonight, under a clear sky with the first hint of evening stars, there are two or three thousand. And by the end of the last encore, they are all swaying to the music pouring from the stage, all riveted on Murphy Wells's voice and the driving sound behind her.

"We're rock stars," Murphy Wells says as the four of them huddle together backstage, their arms draped over one another's shoulders. "Believe it. We really are."